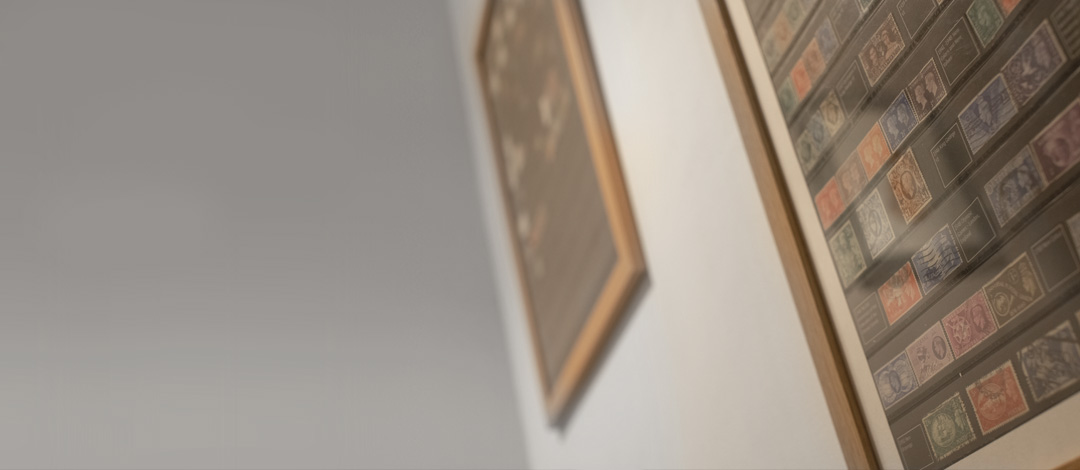 Displaying stamps in frames on the wall
What to frame
Here at Mountame, we believe that we should be able to enjoy the visual aspects of collections without having to worry about degradation. Keeping them in a book or cupboard tucked away means you cannot enjoy them; so we have chosen to break the mold and have given you the ability to display the things you love.
Whether framing for personal or exhibition reasons, Mountame frames are a great solution to letting your creativity shine whilst we handle the delicates. Whether it is one of our off the shelf stock frames or a bespoke fitted solution from one of our designers, Mountame has the right materials so you can rest assured your stamps are in safe hands.
Your creativity is now all that is required! it does not matter if you are choosing a more technical set or opting for a thematic approach, your collection is all that is left – what will you frame first?
What frame to pick
Mountame frames should always be your first choice when thinking of mounting stamps because of our truly archival grade materials. All our products are museum quality but designed for collectors like you. Our Invisawllet™ technology is completely glueless and uses a protective 100% cotton alkaline shield to extend the longevity of your collections. Our PVC-free film creates a super clear aperture whilst being completely inert protecting your stamps without the worry of contaminant transmission.
Whether framing Definitives or Commemoratives most traditional stamps following off the original Britsh template size will fit in our 30mm stocks nicely. When moving away from that set size to larger stamps, such as the British King George V "Seahorse" set, we recommend the 40mm stocks. In some cases with vertical stamps, mixed collections, and even more interestingly sized stamps such as the £10 Britannia postage stamp our custom products are better situated for these tasks.
Flat items such as coil sections, full or partial sheets, and panes can all be custom framed with thicker production items such as postal stationery, full booklets, and even first-day covers having our particular interest. Of course, stamps are not the only things that can be situated in our stock frames so please get in touch if you have any special requirements.
How to frame
Framing with our stocks is easy, just unhinge the frame and place the Mountame stock down on a flat surface. Either extract the archival grade Mountame branded protection and hinge directly for a more permanent solution or leave the protection it in and use it like traditional stocks. Make sure to place your stamps between our InvisaWallet™ film and the archival card. Stamps can always be slightly damaged by affixing stamp hinges so we recommend the latter but the option is there for a more traditional approach.
Put it all back together ensuring the 2nd layer backing sheet is in place accordingly. If your feeling extra creative a few pieces of printed paper can also line the stocks to give a brief title card. It is also worth reminding you to use a pair of stamp tweezers as the natural oils in your finger will always cause damage.
When purchasing your products we always recommend upgrading to our UV protection gallery and museum-grade UV100 Plexiglas . This will ensure a longer life if this is more of a permanent piece of work.
Where to put the frame
We always recommend keeping your frame on a wall inside in a dry and constant environment. Stamps are fragile items that temperature can play a large part in their degradation. Another factor to consider is the natural lighting as direct light on stamps can cause further damage. However, do not fret, as our UV Plexiglas protection blocks nearly 100% of harmful UV rays. Visible light can cause damage so we still recommend not placing it in direct sunlight.
Discover our InvisaWallet™ Frames